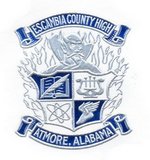 Proudly holding the title of the first public school in the state of Alabama, Escambia County High School is located within the city limits of Atmore, Alabama in Escambia County. Escambia County is located in Southwest Alabama on the Florida border, just a short drive from the beautiful waters and white, sandy beaches of the Alabama and Florida Gulf Coasts.

Atmore is a small city (population 10,009 -2014-US Census Bureau) surrounded by a large area of rural communities with their own identities. The city has a culture similar to its neighboring metropolitan area of Mobile, Alabama. Atmore is a growing community which continues to propagate its economic base with additions and upgrades to both the traditional downtown area, as well as the Rivercane Development along the I-65 corridor. Atmore is also home to the Poarch Band of Creek Indians, the only federally recognized Native American group in the state of Alabama, adding to the historical and cultural diversity and distinctiveness of the area. Governed by Mayor Jim Staff and an elected city council representing the five districts within the city, Atmore is a unique and community-oriented town where residents look to the future while holding on to treasured traditions of the past.

Escambia County High School is a part of the Escambia County Public School System and is classified as a 4A, Title I School. There are four public schools located in Atmore, all part of the Escambia County School District. Rachel Patterson Elementary, Huxford Elementary, and Escambia County Middle School all feed into Escambia County High School, making us the largest school in the county. The current enrollment for the 2021-2022 school year stands at 400 students.

ECHS is the proud home of the Blue Devils, and along with other schools in the Escambia County System, offers a comprehensive instructional program that provides students with both rigorous academic and extra-curricular activities. Faculty and staff are committed to developing career and college ready graduates with the knowledge and skills to be successful in the 21st Century. ECHS has its own Career and Technical school located on campus, offering a variety of opportunities to the students in both academics and vocational education, including programs in Culinary Arts, Welding, Cosmetology, Health Sciences, Agri-Science, Business, Media Production, Music (Band/Choir), Arts Literacy, Robotics, NAF Academy of Informational Technology, Spanish, Psychology, and Sociology.

ECHS also challenges our students to fulfill their potential outside of the classroom by providing extracurricular opportunities for them to showcase and build their talents in the arts, athletics, band, and a variety of clubs and other interests.

ECHS is proud of its diverse academic and vocational courses designed to meet the unique and individual needs of our students. Dual Enrollment agreements with higher education institutions such as Coastal Alabama Community College and Reid State Technical College allow students an opportunity to earn college credit with no tuition due from their families.

Student safety is always a top priority, and our school is served by both a resource officer and nurse to help ensure students' well-being. Escambia County High School and our Escambia County Schools District have worked diligently to cultivate partnerships with local and county law enforcement agencies, as well as relationships with city council officials and state lawmakers.

Again, our mission is to develop students who are literate, self-disciplined, tolerant, and productive members of society using a variety of experiences within a safe learning environment.